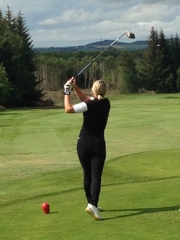 We were pleased to invite Dan Murphy of National Club Golfer to extend his visit to Scotland's Golf Coast to play Gifford after he had played some of the local "big name" courses.
This is what he said in National Club Golfer about Gifford Golf Club.

A lovely 9-holer and the perfect way to break up your trip to East Lothian… The presentation of Gifford from its miniature clubhouse to its pristine fairways is a massive credit to all concerned… The greens were as smooth as any we played all weekend…

Need we say more?
You can book your tee times here: Book a Tee Time
Or, book a tee time by phoning 01620 810591. Pre-booking is recommended if you need a buggy or special catering. For parties of 8 or more players pre-booking we will require a deposit of £5 per person.
Payment can be by cash, cheque or credit card.
For information about the course click: The Course.

We are convinced you will enjoy playing at Gifford Golf Club, but please do not let an accident spoil your day. For safety information click: Play Safely.