Welcome to Gifford Golf Club. Our ethos as a friendly welcoming club is something we are extremely proud of and we welcome members and visitors alike to one of the best 9 holes courses in Scotland.
Our membership is at a healthy level and keen competition will be found at all levels including regular medal play as well as a number of match play competitions throughout the season.
We are also on Facebook
To provide space for news, comment and feedback Gifford Golf Club has the following pages:
Home page: Facebook
Greenkeeper: Facebook

or, Twitter: Twitter
Notices
Molly Glover Bowl and Darbey Salver
The finals of the Molly Glover Bowl took place on 19th September between Shona Paton and Hannah Bullen. Hannah clinched it on the 18th green and the event was made special by Molly Glover herself seeing them off.
In addition, May Scambler and June Forson played in the final of the Darbey Salver and May came out on top.
September 25, 2016
-
The results of the Super Seniors Ladies open competion held on Wednesday 21st September are here.
September 25, 2016
-
The results of the 2016 Summer Cup are here.
September 12, 2016
-
The results of the Senior Ladies Greensomes open competion held on Tuesday 6 September are here.
September 7, 2016
-
The Results of the Diane Martin trophy, held on Saturday 27 August were as follows:
| | | |
| --- | --- | --- |
| 1st | T Simpson & M Scambler | 32 pts |
| 2nd | J Clark & M Stewart | 30 pts |
| 3rd | G Taylor & D Shakspeare | 29 pts |
| 4th | S Parsons & G Parsons | 29 pts |
| 5th | J Archibald & Y Archibald | 26 pts |
| 6th | M Shakspeare & J Cole | 26 pts |
| 7th | N Young & M Young | 25 pts |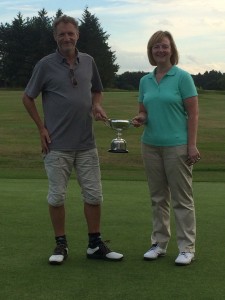 September 7, 2016
-
To see all Notices click here.
To register your RSS reader with these news items click here: RSS
For feedback on this website, or if you have a new News Item please click here.
–

This website uses cookies to help us improve this web site. More information is here.
Member's contributions to this website and any associated facebook pages may be different to the Club's policy or opinion.