Welcome to Gifford Golf Club. Our ethos as a friendly welcoming club is something we are
extremely proud of and we welcome members and visitors alike to one of the best 9 holes
courses in Scotland.
Our membership is at a healthy level and keen competition will be found at all levels including regular medal play as well as a number of match play competitions throughout the season.
Latest News
EGGS winners
The Gifford Seniors (aka EGGS) had the 1st of their 5, 9 hole medals on 19th May. 35 athletes braved the conditions on a rather »»
-
Ladies' Coronation 4s
On Saturday, in very windy conditions, the Coronation 4s was won by Ann Sutherland and Jane Allen with 34 points. Runners-up were June Forson and »»
-
New event: Eggs & Ladies Texas Scramble
A new event has been added to the calendar on the 4th June. This is a 9 hole, shotgun start, Texas scramble with proceeds going »»
-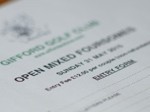 Open Mixed Foursomes
Sunday 31 May Times are still available for our Open Mixed Foursomes on Sunday 31st May. Our course is in great condition and this is »»
-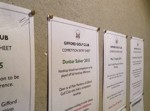 New drawsheets have been posted
The drawsheets for the Oliver Quaich and the Muir Trophy are on the club's notice board and available online here and here. »»
-
To see all news items click
here
.
For feedback on this website, or if you have a new News Item please click
here.
–

This website uses cookies to help us improve this web site. More information is here.

Back to the top