Welcome to Gifford Golf Club. Our ethos as a friendly welcoming club is something we are extremely proud of and we welcome members and visitors alike to one of the best 9 holes courses in Scotland.
Our membership is at a healthy level and keen competition will be found at all levels including regular medal play as well as a number of match play competitions throughout the season.
There are still a few tee times available for the Gents Open on 10 July 2016.
An entry form is available here.
We are also on Facebook
To provide space for news, comment and feedback Gifford Golf Club has the following pages:
Home page: Facebook
Greenkeeper: Facebook

or, Twitter: Twitter
Notices
Congratulations to our Champions
Our championship finals were played on Sunday 19th June and after 3 well contested matches the winners were:
Gents A Division (Peel Cup)                     Blair Shearer
Ladies Champion (Harrison Trophy)      June McEwan
Gents B Division (Holynbank Trophy)    Callum Maguire
June 20, 2016
-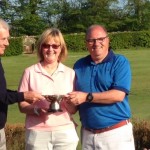 Results of the Sinclair Quaich
The results of the Sinclair Quaich held on Saturday 4th June are here here.
June 10, 2016
-
Results of the Mixed Foursomes
The results are available here.
May 31, 2016
-
To see all Notices click here.
To register your RSS reader with these news items click here: RSS
For feedback on this website, or if you have a new News Item please click here.
–

This website uses cookies to help us improve this web site. More information is here.
Member's contributions to this website and any associated facebook pages may be different to the Club's policy or opinion.